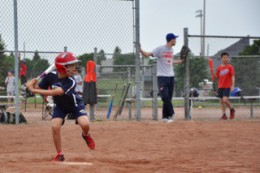 The Wesley Wildfire Junior Softball team competed against five other schools from Pickering, Brampton, North Toronto, Rock Christian Community School, and Stouffville for the ACSI Junior Softball tournament. Just as the weather seemed to change game to game from sunny to cloudy to rainy, the Wildfire Junior Softball team also changed from game to game.
Our first game against Brampton was a poor start to the day with so many dreaded strikeouts. Our second game against Pickering was not much better as they easily outhit Wesley to victory. Despite dropping their first two games of the day, the players were optimistic and determined to improve. After all, they had nowhere to go but up!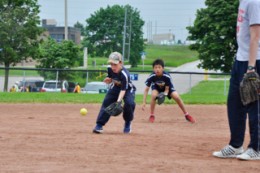 The team began to turn around in their third game, against Rock Christian Community School. Wesley was able to play solid defence against some very good players and squeaked in a few runs for their first victory! Then against North Toronto, Wesley's bats started to heat up and with excellent base coaching from Mr. Tung and Mr. Walsh, Wesley won their second game of the day! Heading into the fifth and final game of the round robin with a 2 wins and 2 loss record, Wesley was up against Stouffville. In our fifth game of the day, Wesley's bats were on fire! Seemingly every player was making solid contact, driving the ball out and fast to the defence. Stouffville made some great plays but they couldn't make enough and Wesley scored 10 runs to give themselves three wins in the morning!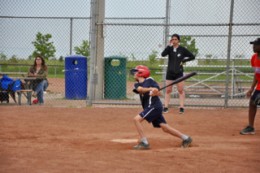 Unfortunately, the brief lunch break proved to be a problem for our team. Once the playoffs started, Wesley's bats went cold. In their semifinal game against Brampton, all their hard hits were going straight to Brampton's stellar defensive players. No one was striking out, but they weren't able to get on base either. Wesley lost their semifinal by a score of 2-1. Then in their consolation game, North Toronto was motivated to play better after their loss against Wesley in the morning and they made Wesley pay for their defensive mistakes. Wesley ended up losing their consolation game and finished in fourth place.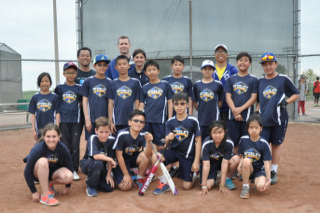 Despite ending the day on a less than desired note, the Junior Softball team showed vast improvements throughout the day. Findlay and Joshua made many notable grabs at first base. Lincoln was a vacuum in the middle of the diamond. Michael in grade 6 cranked out triple after triple after triple. The girls were getting on base with excellent hits by Samantha and Beverly. Everyone got better, we just hit some poor luck. We'll try for better luck in a couple years!