Earlier this week, Mrs. Talsma decorated the bulletin board between the boys and girls washrooms on the ground floor with a few different signs with messages such as "Big News Coming Soon…" and "Are you ready?" There was a hint that something was going to happen in 91 days but there were no other clues.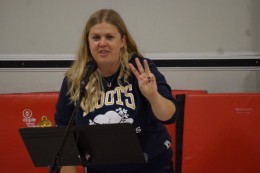 It sparked some interest and questions about what this "BIG THING" could be. However, Mrs. Talsma did not keep the students in suspense for very long…only about 24 hours. At the last Walk-a-thon assembly, Mrs. Talsma revealed that the exciting event that would be coming on Tuesday, January 23, is Literacy Day, during which we would be hosting three different authors at Wesley! These authors include:
In June, we had award winning Canadian author, Eric Walters, come to speak to our students and that promoted lots of excitement and reading. We anticipate that our students will enjoy all the activities that we have planned leading up to this year's visit from three different authors. The first activity will take place on November 8th, during our first Wacky Wesley Day of this school year. Students can dress up as their favourite book character. If they do, their names will be put into a draw for a Literacy Day prize package. If they come dressed up as a character from one of the books written by one of the three authors, their names will be put in 3 times, thus increasing their chance of winning!
Indeed, Mrs. Talsma was right. This is BIG NEWS for Wesley students! In the meantime, we look forward to Book Character Day and seeing how our students will use creativity to transform their literary knowledge into amazing costumes. Stay tuned!