The Grade 3A class entered art work and health safety posters into this year's Markham Fair. Their art work was in the torn paper and tissue paper category and they were required to create a fall themed scene on a piece of white cardstock. Some of the students created gorgeous sunsets, detailed fall trees,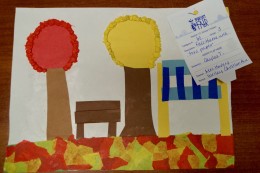 and children playing in God's beautiful fall creation. Their health safety posters were required to inform an audience about street safety on a large piece of white poster paper. Some of the safety tips included: do not walk with earplugs in, look both ways before crossing the street, and stop to listen before crossing a train track. Each student entered one piece of work and some families
attended the Markham Fair to see if our students won…and one student did! Congratulations, Eliana, for winning third place in the torn paper and tissue paper artwork category! Good work, Grade 3A class!
There are more pictures for you to enjoy on our Facebook page.