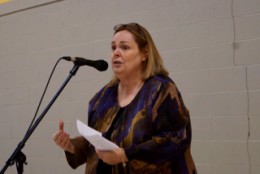 Last night, we hosted our annual Meet and Greet Parent Night. The gym was overflowing for the first part of the evening. Mrs. Serio welcomed everyone and invited Pastor Joe Tung to open the evening with a prayer. Next, she introduced the new staff: Mrs. Scott (ELC Supervisor), Mrs. Kennedy (Media Literacy), Miss Hau (Toddler) and five new Before/After Care Staff (Miss Foreman, Miss Xiang, Miss Luk, Miss A, and Miss Lam).
Before Mrs. Bowen introduced the guest speakers, she communicated that our before and after school program is operating at maximum capacity, hence the new staff. She asked if anyone who currently has a spot but may not really need it, to consider giving it up, as there is a long wait list for care.
Nancy Headdon and Maggie Xu from York Region's Early Intervention were the guest speakers. Ms. Headdon explained the various services offered by the organization and who might qualify for them. Ms. Xu explained the critical timeframe of the early years (age 0-4), when a child's brain has the most plasticity and can change/ be helped the most. She emphasized the need to act quickly if you suspect your child needs an assessment and special needs support.
After the presentation, several staff members and one parent spoke briefly on a variety of subjects:
Mrs. Scott – Medication at school and epi-pens (Elementary students who do not bring their epi-pen to school will be sent home.)
Ms. Hoover – Traffic flow, parking, and safety
Mrs. Harley – Homework tips (homework is noted on agenda and classwork web pages, children should have a quiet dedicated spot for homework, make sure they understand the instructions, help them with the first question if necessary, break up the homework into chunks if necessary, give small rewards – like M&M or other treat to help progression if necessary, contact the teacher if you have questions or concerns)
Mrs. Hoover – Social Media (Please click here for the entire section)
Mrs. Nomani – Well Being (assess the number of extra curriculars your child may be taking, ensure he/she has a healthy breakfast and snack, and ensure he/she has sufficient sleep each night) and uniforms (please ensure uniforms are neat, appropriate in size/length, and clean)
Mrs. Harper – Communications via agenda, class page on website, and weekly electronic newsletter
Mrs. Yeung (Parent) – Parent Prayer Meeting on the last Monday of the month from 8:45-9:15 AM in the staff room
After the presentations in the gym, parents were invited to go to their child's classroom to talk to teachers about the upcoming curriculum and to ask any questions.