Thanksgiving is a season to remember all our blessings and to be thankful for everything  in our lives. It is a celebration that is shared with family and friends. Today, our Wesley family sat down for a traditional Thanksgiving lunch.
The ELC ate in their classrooms as per usual while the elementary school children shared the same lunch hour at 12:00pm. Grades 1-3 ate in the cafeteria while students in Grades 4-8 ate in the gym.
The festive meal consisted of roasted turkey breast from the Village Grocer while our chefs lovingly prepared all the side dishes and dessert, pumpkin cupcakes!  Parent volunteers, Mrs. Stylianou, and Mr. Schmidt served our teachers and students. Everyone enjoyed the festive meal. There were even second helpings by some of our students in the older grades!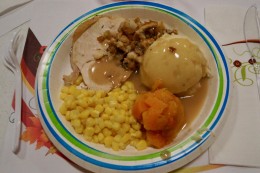 Each of the elementary school classes was responsible for part of the event.
Grade 1 – Two big Thank You cards: one for the Village Grocer and another for our kitchen team
Grade 2A and 2B – Thank you cards to parent volunteers
Grade 3A – Decorations
Grade 4A & 4B – Setting Tables
Grade 5A – Put Away tables and chairs
Grade 6A – Program / prayer in the gym
Grade 6B – Program / prayer in the cafeteria
Grade 7 – Dishes and clean up
Grade 8 – Tables and chairs set-up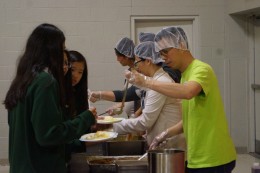 This was one of our most efficiently served Thanksgiving lunches. A team of 21 devoted volunteers (including one grandma, one parent of a teacher, and a former student and sister of a teacher) helped pour drinks, served the delicious meal and assisted with clean up. Because we had so many helpers, lunch was served quickly and orderly. A GIANT THANK YOU to everyone who participated and helped with the event.
We are truly blessed to have such a wonderful school and community. Give thanks! Have a wonderful Thanksgiving.
Enjoy these pictures! There are many more on our Facebook page.