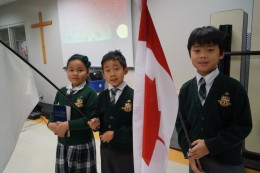 Chapel Team 2 led this morning's elementary service in the cafeteria. In addition to the regular praise and worship, there was a special reading to mark the first week of Advent. The Candle (light bulb) of Hope was lit.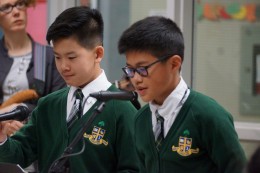 Two members of our grade 6A class updated the students about the $900 dollars that was raised from our November Care and Share Day last week. They reported that they bought and donated 87 toys for Toy Mountain so that needy children around the GTA would be able to have a gift to open on Christmas morning.
Pastor Leung from Flow Without Bounds Ministries was our guest speaker. He asked the students what they were hoping to receive for Christmas. He got a variety of answers, including a PS4, a cell phone, Lego, etc. Pastor Leung then asked a series of questions about someone they haven't heard from or seen in years. Would they expect a present from him/her? Would they have hope in a promise made by him/her a long time ago? What if it was a gift or promise from something they know and see everyday? The general response was that they wouldn't believe or expect anything from the person they hadn't seen in a long time but they would believe in the promise or expect a gift from someone close to them. Pastor Leung then asked, "Who has ever broken a window?" A few hands went up…including a few teachers. Pastor Leung then asked, "What if the person whom they knew assured them not to worry about it and he would take care of the broken window for you?" There were a few relieved and happy faces in the
crowd. Then, he asked,"What if the window fixed itself? Would you have hope in that person?" Pastor Leung continued to explain that that person in our lives is Jesus. He cares about us and has tremendous power. He loves us so much that He came to die for us and rose again from the dead on the third day. He hears our prayers daily and has the power to answer them too. Pastor Leung shared Colossians 1:27 – "To them God has chosen to make known among the Gentiles the glorious riches of this mystery, which is Christ in you, the hope of glory." He then shared a story from his ministry about a woman who has been confined to a wheelchair for most of her life and who is in constant pain. Recently, he asked her what kind of hope she had for this Christmas season. To his surprise, she replied, "I know that one day I will walk again. It may not happen while I am on earth but I know I will do it in heaven." Pastor Leung responded that he knows he will see her in heaven not only walking, but running. He encouraged the students to hope for something bigger than presents this Christmas and something more glorious. He concluded by praying for them, asking God to show them the Christ in each of them, the hope of glory.
The ELC chapel service was led by the Toddler class in the gym. After the recitation of the pledges, the Lord's Prayer and O Canada, Mrs. Chan shared the message which was based on John 10:11- "I am the good shepherd. The good shepherd lays down his life for the
sheep." They watched a short video about a lost sheep who was found by his shepherd. Mrs. Chan explained that sheep need grass and water but don't know how to find it. They need their shepherd to lead them. They also need protection from their shepherd agains wild animals. One of her students dressed in a shepherd's costume helped her explain how the shepherd uses his staff to retrieve and protect his sheep. Mrs. Chan also explained that sheep can recognize the voice of their shepherd, as quoted in John 10:4. She shared that she is like a sheep because she prays to Jesus to guide her to know where He wants her to go and He protects her from danger each day. Mrs. Chen concluded by praying for the children and challenged them to be good sheep by following Jesus, reading the Bible each day, praying and learning to listen and recognize His voice.