This morning's chapel service was a very special event. As the students entered the chapel wearing poppies or poppy stickers, everyone could sense the sombre mood that filled the cafeteria. A video was playing, showing pictures of men and women who have served our country.
After the recitation of the pledges and the Lord's Prayer, O Canada was sung in its entirety, with the three additional verses. Mrs. Kennedy (Grade 1-8 Media teacher) was the guest speaker this morning. She shared two experiences she had when she was a youth. In 2007, she went on a Remembrance Tour to mark the 90th anniversary of World War I. As part of that trip, she had to research and learn about a veteran from that war. She chose her own great-grandfather, Walter MacDonald. Three years later, she went on another Remembrance Tour. That one was to mark the 65th anniversary of the Liberation of Holland. For that trip, she interviewed someone from her home town, Uxbridge, who served in the war. She learned the story of Fred Barnard, who also
shared about his brother, Donald. Both men served together. In particular, Mrs. Kennedy learned about Juno Beach and their experience on D-Day. Fred survived but Donald was killed at Juno Beach. Mrs. Kennedy was able to lay a wreath at Donald's grave in France on behalf of the Barnard family. By going on these two trips, Mrs. Kennedy shared that Remembrance Day to her is more than just visiting battle sites and learning about the  statistics from the various wars. It's about learning the stories about individual men and women who served our country and making personal connections. She encouraged Wesley students to be the torch bearers, as referenced in the famous poem, In Flanders Fields, by John McCrae. She challenged them to make an effort to meet and learn the story of a WWII veteran as they will be the last generation who will be able to interview and learn from a living WWII veteran directly. She concluded by reminding us that we are the future generation of torch bearers who must continue the memory of those who came before us and fought so valiantly so that we can have peace today.
After Mrs. Kennedy's presentation, a grade 8 student spoke about Dr. John McCrae. He shared details about Dr. McCrae's life and how he came about to write the famous poem, In Flanders Fields. Three students then read the poem as three sets of students lay wreaths at the front of the room. Each of the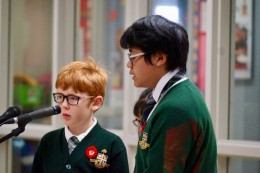 three wreaths were made by students in the After School Program. The service was concluded with the playing of "The Last Post", by one of our Grade 8 students who is also a Royal Canadian Air Cadet.
The ELC chapel service was led this morning by the JK/SK1 class. After some energetic singing, Miss Markle shared some thoughts about Remembrance Day and showed the Peanuts video in which Linus recites In Flanders Fields for Charlie Brown. The students then watched a video of the playing of the Last Post and had a moment of silence.